About Us
About Us
About Us
Established in 2014, UFG Specialty is the E&S division of UFG Insurance. We specialize in a broad range of classes written exclusively through wholesale brokers on a monoline property, primary quota share property, excess property, inland marine, excess inland marine, casualty and excess casualty basis, including excess auto. We are committed to our wholesale partners providing coverage solutions for those specialty, declined, non-renewed, difficult-to-place or high capacity accounts.
---
We offer insurance coverage in 50 states plus the District of Columbia using either our exclusive admitted carrier company, UFG Specialty Insurance Company, or our non-admitted insurance companies, Mercer Insurance Company and Lafayette Insurance Company. With a financial size category of X ($500 million to $750 million), UFG is rated "A-" (Excellent) by AM Best, with stable outlook, reflecting long-term balance sheet strength.
The UFG Specialty Team
UFG Specialty's corporate office is in Phoenix, Arizona. The team is made up of experienced individuals who are dedicated to first-class service.

Our seasoned underwriters have the knowledge and flexibility to provide creative solutions for moderate, difficult, larger and more complex risks. Whether it's building partnerships or providing excellent service in the evolving excess and surplus marketplace, we adapt to meet our brokers where they need us most.
About UFG Insurance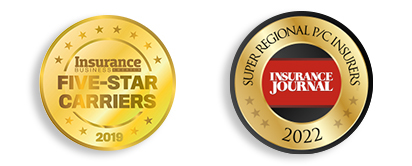 UFG is a successful and growing multibillion-dollar-asset insurance company dedicated to the promise of protection. Founded in 1946, UFG offers insurance protection for people's businesses, homes and vehicles.
UFG has been named a Super Regional Property/Casualty Insurer™ by Insurance Journal every year since 2007, and also earned the prestigious "Five-Star Carrier" rating from Insurance Business America in 2019 for our excellence in underwritings expertise, product training, marketing support and broker commitment.
History of UFG
Founded in 1946 as United Fire & Casualty Company, United Fire Group, Inc. (UFG, Nasdaq: UFCS), through its insurance company subsidiaries, is engaged in the business of writing property and casualty insurance.
Through our subsidiaries, we are licensed as a property and casualty insurer in 50 states, plus the District of Columbia, and we are represented by approximately 1,000 independent agencies.
For more information about UFG, visit www.ufginsurance.com.